While profitability is only explicitly stated in one of these goals, the reality is that each of these can have a positive impact on the bottom line. And manufacturing analytics can provide a significant boost in achieving four out of five of these objectives.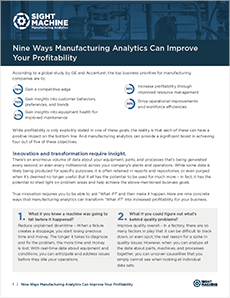 There's an enormous volume of data about your equipment, parts, and processes that's being generated every second, or even every millisecond, across your company's plants and operations. While some data is likely being produced for specific purposes, it is often retained in reports and repositories, or even purged when it's deemed no longer useful. But it all has the potential to be used for much more – in fact, it has the potential to shed light on problem areas and help achieve the above-mentioned business goals.

True innovation requires you to be able to ask "What if?" and then make it happen. Here are nine concrete ways that manufacturing analytics can transform "What if?" into increased profitability for your business

Get started today!