While big data analytics is designed to unlock the value of data, the reality is that horizontal solutions aren't well-suited to the manufacturing industry. That's where manufacturing analytics comes in.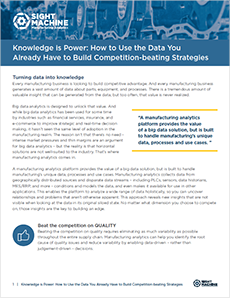 This tip sheet highlights how a manufacturing analytics platform can help you strengthen your competitive edge with data you already have. By uncovering relationships and problems that aren't otherwise apparent, you'll increase your chances of beating your competition on quality, price, time to market, and innovation.

To get your copy of "Knowledge is Power: How to Use the Data You Already Have to Build Competition-beating Strategies," please fill out the form now!